Handwoven Organic Merino Wool Blanket in Ethereal Blues
Click on individual icons for more information, photos and to purchase.
| | |
| --- | --- |
| $695.00 CAD | $750.00 CAD |
Wrap yourself in a warm loving hug from Mother Nature. Some of the finest certified Organic Merino wool which I hand dyed prior to weaving. I have semi-felted this blanket/wrap to reduce pilling and increase warmth and coziness.
Dimensions 40 x 70 inches with generous twisted fringe….perfect for meditation, sarvasana (even covers your toes!) or just relaxing.
The OM blankets are made with a soft spun certified organic Merino wool from the UK. The softness makes the blanket extra comfy and means gentle care of the blanket is required as it will pill with abrasion. This is not superwash or superwool Merino so it will felt if put in the regular wash and dry cycle – so please care for this blanket as you would with all heirloom wool items to keep it lasting beautifully for years to come!
If you find pills develop you can use a wool shaver specifically made for removing pills though there shouldn't be too much pillage due to the felting done to this shawl.
I weave Canadian Woolen Blankets – in natural/neutral colours – and Merino Twill Blankets – in luxurious, soft hand dyed Merino Wool. The Merino Twill Blankets are easy care and can be washed and dried on gentle and low heat. The Canadian Woolen Blankets are washed as traditional wool. And for those looking for an organic option I have some certified organic Merino Wool blankets available – beautiful soft and peaceful colourways. Whether in Canadian Wool or hand dyed Merino Wool, all blanket styles make perfect gifts. Ideal for snuggling by the fire and reading a good book…or napping in luxury.
Click on individual icons for more information, photos and to purchase.
$350.00 CAD

$550.00 CAD

$550.00 CAD
The next group of blankets are made solely with hand dyed superwash Merino Wool so they are easy care and can be put in your washer and dryer (med heat/gentle wash).  They are woven in a twill pattern giving them a bit more density and the colours are beautifully rich.  Both blankets are handwoven using a black weft that makes them pop that much more!  And the sizing is ample at approximately 48 x 80 inches plus a generous twisted fringe.  The perfect gift for yourself….or someone else you love 🙂   Blankets – actually ALL textiles make great gifts for weddings, celebrations, birthdays, anniversaries, ….or just to say "I'm always thinking about you ":)
"West Coast Sunset" Merino Wool twill blanket (machine wash and dryable).  SOLD
Click on individual icons for more information, photos and to purchase.
[https://www.etsy.com/indigomoonstudiobc/527829748]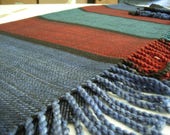 $1095.00 CAD
Handwoven Merino Wool Blanket/Throw
West Coast Sunset with Black stripes and border
machine washable and dryable